Alittle Bit About Us....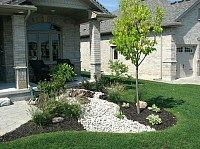 What drove me to start this Business... 
I've always been a landscaper ever since I was young, always doing small side jobs for our neighbors we lived near.  So now many years later I have an idea to start my own Landscape buisness.  What really made me start my Buisness was me thinking back to those days of my childhood remembering how happy I would make my neighbors when I finished the job that they asked me to complete.  It truly made me feel great seeing them so happy and so now I've picked back up working to make people happy and haven't stopped seeing smiles from each client I've had the pleasure to work for.  Being how young I was they were highly impressed of how beautiful and neat everything was.  I would have to say I've learned so many things since I was young from landscaping to now running a business. I've made it my # 1 goal to always insure I give the most professional and absolute best service that each and every client deserves to have.  I have succeeded thus far with having 💯% Customer Satisfaction which is most important to me...
Whatever your landscaping needs are I know I'm the right guy for the job! I really stride to put fourth my best work into every job I do so my customers will be more than satisfied and refer me to others. I have had the pleasure of landscaping many houses and all were very impressed. (Pictures of my work in the "Gallery" Section) Not one client has given me a bad review. This has really made my business grow quicker than I have ever imagined it would.  I have a great clientele base around the capital region.
*"No matter how big or how small the job, N.Y. Lawn Barber guarantees to get it done!"
*"Customer satisfaction is our #1 goal to achieve.  We pay very close attention to every aspect/Detail of the job that 'YOU' 'The Client' needs DONE and exactly the way you want it!"*
  "We guarantee the most honest & affordable 'PRICES' within the capital region."
* Please Call or Email us with a few details about the job that needs to be done and we will be more than happy to schedule a "FREE" estimate for you at our/your earliest convenience.*
*"If you want someone who likes building great work relationships and someone who truly cares about your needs first then we are definitely the ones you want landscaping for YOU!
________________
            👇👇👇👇👇👇👇👇👇👇👇👇👇                          *Phone:(518-389-5903)*                   ☝☝☝☝☝☝☝☝☝☝☝️
   _______
             👇👇👇👇👇👇👇👇👇👇👇👇👇
           ☝☝☝☝☝☝☝☝☝☝☝☝☝☝
   ________________________
**Prices vary from an hourly rate to just one set price depending the job that is needed to be done.**
**(Additional fees & sales tax may apply)**
  Give us a call and without a doubt we will get the job done...
WINTER SERVICE......Winter will be coming soon so let us help make your days easier!!! 
Also serving capital region with snow removal and ice management! Call now to set up services for the winter to come...You need your driveway cleared? You can definitely count on us to get the job done!
*Local residential driveways starting at $24.99 & up.
   *Commercial Snow Plowing (-call for availability-)
                  **Don't hesitate call us Today!!**
      *--Cash, checks, and all major credit cards
                          are gladly accepted--*
                              -💵-🎫-✔-💳-